I'm HPuterpop, a graphic designer and admin on the Poptropica Wiki. I help out with page development, community projects, and graphics. I'm also an editor on the Poptropica Help Blog.
About Me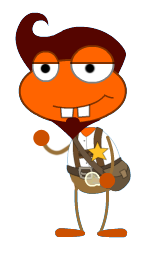 I've played Poptropica since I was a five year old kid, back in 2007. I found the site while checking out
FunBrain.com
(and quickly decided it much more entertaining). I appeared in the community around 2011, being a young commenter with the name "Puterpop". The name stuck, and in 2013 I finally made a
WordPress account
. A hop and a skip later, I was a
new author
on the PHB, the first Poptropica fan blog. Lots have happened since then - my series called
Poptropican Portraits
in which I would draw kids from the community - my
Poptropica Walkthroughs and Cheats
series, bringing in thousands of views each video - and now
the merge
of the two biggest Poptropica fan sites, the PHB and the Poptropica Wiki, creating the reformed
Poptropica Help Network
.
I am the executive manager here on the wiki, meaning that I oversee the content and theme of the wiki. I'm responsible for the logo, background and color scheme as of now. I also handle any big scale graphics.
My biggest project ever, as you may have guessed, is the renovation of the Poptropica Wiki. I oversee content, and with the merge and my admin rights, I've been cleaning up the sloppy handling the wiki before had been treated with. Over 700 pages to re-create - I hope to eventually finish this huge undertaking.
About my Poptropican
Puterpop (Messy Sinker) is my very first account, being created in 2007. At the time of creation, I was 5 years old, so Poptropica's servers still thinks I'm one year older than I actually am. I forgot my password to my account a few years later, and made a new account (puterpoptropica, Bashful Whale) soon after. Bashful Whale is the account with most old and rare items on it, with pages of store items.
In early 2013, I got the notion to contact the Creators about my missing account password - to my surprise, soon after I got an email providing my account's username and password! Puterpop is still my main account, with my iconic look preserved - buck teeth, fancy hair, and a dashing goatee.
Appearances in Media
illustrated me
along with the rest of the at-the-time current Poptropica Help Blog staff. In 2015, my Poptropican
appeared on an advertisement
for Poptropica on FunBrain.com, along with many others such as Slanted Fish and Spotted Dragon.
During a conversation with Christopher Barney, a Poptropica developer, he told me that I was one of the best known players of the game.
Favorite Islands
Fan Art
Community content is available under
CC-BY-SA
unless otherwise noted.