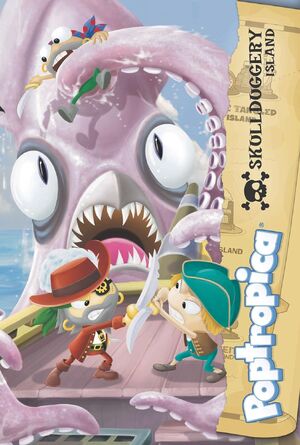 Along with Astro-Knights Island (Book) and Lunar Colony Island (Book), The Skullduggery Island (Book) is another paperback storybook for Poptropica's longest islands. The book was written by Adrianne Ambrose and was released on November 8, 2012. It also comes with a Skull Pirate promotion code (SKULLBOOK). Read the first two chapters here.
DescriptionEdit
"
In this 160-page illustrated novel, a cruel pirate named Captain Crawfish has been raiding the small port of Fort Ridley. Our hero must embark on a journey to find a powerful ship and skilled crew to help him defeat Captain Crawfish and recover a map that will lead the islanders of Fort Ridley back to their treasure.
"
—Poptropica Creators Blog
All aboard for an adventure along the high seas! An evil pirate named
Captain Crawfish
has been raiding the small port town of Fort Ridley. Having just returned to town, young Owen Christopher must lead a ragtag crew on a daring journey through many dangerous ports to recover a long hidden treasure that might just be the only hope in defeating Captain Crawfish.
On the cover of the book, Captain Crawfish doesn't have his peg leg despite the fact that in the book, it mentions he has one and the drawings inside the book depict him with one.