Not to be confused with The Purple Giant (scene)
Purple Giant is a giant living in the clouds of Early Poptropica Island who has lost a Golden Egg. You must return the egg to continue to the next scene.
Characteristics
The Purple Giant's name is pretty self-explanatory - he's a purple giant with patched green pants and purple toenails. His torso, arms, and head are not shown. He holds a club, which he uses to block your way. He portrays antagonistic behaviors, using people to get what he wants; blocking your way until you bring him his egg. He speaks in rhymes with a special, large type of speech bubble with a loud font. His gender is determined by his "Giant" status - in mythology, the female giant is a giantess.
Storyline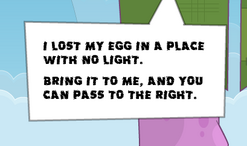 You will find the Purple Giant on the first cloud scene on Early Poptropica. He will tell you that he's lost his egg, the Golden Egg in a place with no light - that place being the Dark Room. In return for his egg, he will raise the giant club that blocks your way, and you can continue on.
The background of the Purple Giant's scene purveys that the giant owns a castle and perhaps is in fact the famous giant from the fairy tale Jack and the Beanstalk.
The later scenes, the Giant's Garden and the Aircraft Graveyard, can be interpreted as telling an underlying story of the giant - he has a garden with the Pilgrims' stolen bucket, suggesting that while the Purple Giant was stolen from, he may also be a thief. The second scene, the Aircraft Graveyard, holds multiple crashed aircraft, which it is possible he is responsible for.
Trivia
He is the only creature whose speech bubble looks different from the normal Poptropican speech bubble.
It is a reference to the giant from the fairy tale Jack and the Beanstalk.
He speaks in rhymes.
He is taller than the scene he is on.
Community content is available under
CC-BY-SA
unless otherwise noted.