Poptropica Worlds is a spin-off of Poptropica that was released in the spring of 2017. It was announced in January 2016. The first island is called Crisis Caverns Island. The second one is 24 Carrot Island. The third one is Greek Sea Odyssey. It also has a mini-island titled Dr. Hare's Revenge.
The game was released on browser for computers and as a mobile app on iOS devices.
Islands
Main Islands
Mini-Islands
Differences
Game Engine
Unlike the original Poptropica game, this version of the game is written in the widely-known game engine, Unity.
In the first Poptropica game, it was written on Adobe Flash, another well-known program used for a variety of unique purposes during its lifetime.
Gameplay
Controls
The controls in Poptropica Worlds consists of a 'Click-to-Move' moving mechanism. Compared to the original game, which uses a kind of 'Drag-to-Move' control. In more recent versions of the original, the 'Click-to-Move' makes this moving option active.
Chat System
Poptropica uses a simple pre-scripted bubble chat system when interacting with an NPC and/or Character.
Poptropica Worlds uses an RPG-like chat system when interacting with the characters, but still keeps the pre-scripted dialogue as in the previous games.
Style
The art style is significantly different compared to how players are originally used to.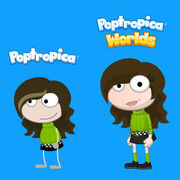 Poptropicans in Poptropica Worlds are slightly taller compared to the Poptropicans in other games. Worlds has included fingers on Poptropica avatars, as well.
Miscellaneous
Trivia
References
Community content is available under
CC-BY-SA
unless otherwise noted.