Jurassic World: Dominion Dominates Fandom Wikis - The Loop
Play Sound

"
Explore, collect, compete
"
—Poptropica slogan
Poptropica is an online role-play browser game created by Jeff Kinney and Family Education Network for kids ages 6–15.
In the game, players, called Poptropicans travel to different islands and complete quests on them. So far there are fifty-three islands released on Poptropica and over 500,000,000 Poptropicans. Poptropica creates a lot of merchandise, including the Poptropica Blimp toy and many outfits, all of which are sold at the Poptropica Shop, or their online Zazzle store. They also make action figures, plush models, and "Pocketeers," which are two-inch toys.
Islands
Poptropica has had 50+ islands over its runtime, and more are currently being planned. Click "Expand" for a list of islands by release year.
Video Games
So far, Poptropica has created two video games. The first one is called Poptropica Adventures. Poptropica Forgotten Islands was released for the Nintendo 3DS and iOS devices in 2013.
Common Rooms
Main article: Common Room
Common Rooms are rooms where you can chat or challenge other players head-to-head. Nearly every island have their own Common Room. Below is the list of most of the island Common Rooms:
Island

Common Room

Early Poptropica
Soda Pop Shop/Arcade
Shark Tooth
Coconut Cafe
Time Tangled
Party Time Tower
24 Carrot
24 Carrot Cinema
Super Power
The Daily Paper
Spy Island
The Hair Club
Nabooti
Fly-By-Night Airlines
Big Nate
Cap'n Salty's
Astro-Knights
Crop Circle Inn
Counterfeit
The Moldy Baguette Inn
Reality TV
Billiards
Mythology
Midas' Gym
Skullduggery
The Broken Barrel
Steamworks
Steamworks Gear Shop
Great Pumpkin
Flying Ace Cafe
Cryptids
Bert's Bed & Breakfast
Wild West
Dusty Gulch Hotel
Wimpy Wonderland

Photo Gallery

Red Dragon
Frog Creek Library
Shrink Ray
Sweet Dreams Candy Shop
Mystery Train
Reverie Lounge
Game Show
Robo-Bling Boutique
Ghost Story
Visitor Center
S.O.S
Daggoo's Fish Market
Vampire's Curse
A Farm
Twisted Thicket
Bjorn's Smörgåsbord
Poptropolis Games 2013
Poptropolis Training Hall and Gym
Wimpy Boardwalk

Laser Tag

Lunar Colony
Final Frontier Gift Shop
Super Villain
You Know The Drill Eatery
Charlie and the Chocolate Factory
The Post Office
Zomberry
Cinema B
Night Watch
Bananabees
Back Lot
Celebrity Wax Museum
Virus Hunter
Town Hall
Mocktropica
The Blue Locust Restaurant
Monster Carnival
Ice-Cream Shop
PoptropiCon
The Facili-tee, Atrium, Boiler Room
Arabian Nights
Rumi's Rugs, The Hangout
Galactic Hot Dogs
Intergalactic Arcade
Mystery of the Map
Viking Grotto
Timmy Failure
Maury's Museum of World Records
Escape From Pelican Rock
Bert's Basement Gym
Mini-Islands
Main article: Mini-Islands
Also called Miniquests, Mini-Islands are quest that looks like the island quests, but shorter and usually easier. The Mini-Islands can be bought on Poptropica Store with various prices. However, since late 2011, the Mini-Islands would not cost any credits. Below is a list of Mini-Islands released on Poptropica:
There's also a Mini-Island play called Blimp Adventure. You must buy the Poptropica Blimp first on Toys R Us to get the redeem code.
Bonus Quests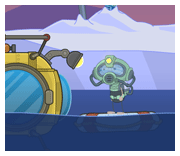 In December 2011, Poptropica started releasing bonus quests for members. The bonus quest can be unlocked when you finish selected islands. The islands that have Bonus Quests are:
The Poptropica creators have stopped making Bonus Quests since Survival Island came out.
The bonus quest eventually came back on Fairy Tale Island
Island Restart
On July 6, 2011, Poptropica started allowing players to replay islands, while keeping all the Island Medallions they had already earned. After you finished the island numerous times, you'll get to see how many times you've completed it.[1] An island can be restarted from the map screen.
HAXE Port
A port of Poptropica, made in JavaScript, was announced in 2018 and first available to the public on March 11, 2020. The most recent version of the port can be played here.
Changes
The game is programmed in JavaScript. Graphics are PNGs instead of SVGs and are ported from Flash. Files are GAFs and PNGs contained in ZIP files, as opposed to SWFs. XML files remain in use.
On release day, account creation was not possible. Users did not yet get benefits from membership, and the account name in the Account Settings window was "default0".
Players are given six sample Poptropicans to choose, each with a unique name and appearance:
On episode 1 of Survival Island, the fire effect is a solid image instead of a group of particles.
On episode 1 of Survival Island, the water droplets in the cave are more visible and fall at a faster rate.
The player's Poptropican's eyes no longer track the cursor, but all other Poptropicans' eyes still do.
Amelia's scarf was removed and replaced with pilot goggles.
A daily reward system was added. Players get extra Credits every day if they log in: 50, 75, 100, 150, and 250 for days 1-5.
Escape from Pelican Rock Island has multiple changes between the Flash and HAXE versions:

The bearded man's line, "Scoping out the scenery, eh?" is now "It's a crime that some pets drink grape soda. I just saw a dog with a purple tongue."
Bird droppings were added to the outside of the prison.
Two signs reading "Caution: Steam" and "Do Not Overwork the Machine!" were added near the license plate maker.
The mess hall now has graffiti on the walls and a trash can.
Timeline
On March 11th, 2020, the HAXE port was made public. Home Island, 24 Carrot Island, Snagglemast Island, Survival Island episode 1, and PoptropiCon Island episode 1 were available. Timmy Failure Island, Escape from Pelican Rock Island, Shrink Ray Island, and Mythology Island appeared on the map, with Timmy Failure Island being labeled "coming soon" and "not ready to play," also appearing half-sunk. The other three islands were completely submerged underwater.
On March 30th, 2020, the character creation screen and name selection were redesigned.
On April 2nd, 2020, Timmy Failure Island was released for members. Escape from Pelican Rock Island was updated with a "Coming Soon" label and partially rose out of the water.
On April 9th, 2020, the character select screen was further redesigned. Players can choose pre-made characters with unique names. Additionally, this update changed the dialogue on Home Island to ask players what they would like to do in the game and fixed a bug in which the game would crash after jumping on the pig on Home Island.
On April 21st, 2020, 24 Carrot Island's dialogue was updated and rewritten, mostly to give hints to players. The description for the island was also updated.

Old: "People are going missing, and the carrots are disappearing. It's up to you to get to the bottom of the mystery!"
New: "Kids, carrots, and a cat have gone missing! Help solve the mystery!
Island Tips:
Find the cat
Get into the factory
Avoid detection
Save the world!"

On April 27th, 2020,

American Girl: Joss's Island

was added.
On April 28th, 2020, an intro cinematic for 24 Carrot Island and multiplayer support in Common Rooms were added. Quippy was added into the Common Rooms on existing islands.
On May 5th, 2020, players got the ability to create accounts and are prompted to do so after choosing a Poptropican.
On May 22nd, 2020, Early Poptropica Island appeared on the map. It is used as a members-only way to access the AS2 islands.
On June 2nd, 2020, an intro cinematic was added to the game.
On July 8, 2020, Timmy Failure Island was released for all and Escape from Pelican Rock Island was released for members. Mythology Island partly rose with a "coming soon" label. A roadmap feature that outlines important events in the island was added to the menu, launching for 24 Carrot.
On August 28, 2020, Time Tangled Island was released for members.
On October 13, 2020, Zomberry Hero Special Event was released for all players.
Trivia
Poptropica was officially launched in September 2007.
As of October 19, 2012, Poptropica has over 498 million users.
In early 2010, the Poptropica team added membership for Poptropica users to have an upgraded access to exclusive items from the Poptropica Store, and to play on islands before their release to non-members. In August 2014, they allowed members to access a beta island, Poptropica Land, where they are able to play with special idealistic tools, costumes, etc., for their enjoyment, even if they will not be used in future islands.
The game's login screen was redesigned on September 25, 2018.
External links
References