"
Explore, collect, compete
"
—Poptropica slogan
Poptropica is an online role-play browser game created by Jeff Kinney and Family Education Network for kids ages 6–15.
In the game, players, called Poptropicans travel to different islands and complete quests on them. So far there are forty-five islands released on Poptropica and over 500,000,000 Poptropicans. Poptropica creates a lot of merchandise, including the Poptropica Blimp toy and many outfits, all of which are sold at the Poptropica Shop. They also make action figures, plush models, and "Pocketeers," which are two-inch toys.
Islands
Poptropica has had 50+ islands over its runtime, and more are currently being planned. Click "Expand" for a list of islands by release year.
Video Games
So far, Poptropica has created two video games. The first one is called Poptropica Adventures. Poptropica Forgotten Islands was released for the Nintendo 3DS and iOS devices in 2013.
Common Rooms
Main article: Common Room
Common Rooms are rooms where you can chat or challenge other players head-to-head. Nearly every island have their own Common Room. Below is the list of most of the island Common Rooms:
Island

Common Room

Early Poptropica
Soda Pop Shop/Arcade
Shark Tooth
Coconut Cafe
Time Tangled
Party Time Tower
24 Carrot
24 Carrot Cinema
Super Power
The Daily Paper
Spy Island
The Hair Club
Nabooti
Fly-By-Night Airlines
Big Nate
Cap'n Salty's
Astro-Knights
Crop Circle Inn
Counterfeit
The Moldy Baguette Inn
Reality TV
Billiards
Mythology
Midas' Gym
Skullduggery
The Broken Barrel
Steamworks
Steamworks Gear Shop
Great Pumpkin
Flying Ace Cafe
Cryptids
Bert's Bed & Breakfast
Wild West
Dusty Gulch Hotel
Wimpy Wonderland

Photo Gallery

Red Dragon
Frog Creek Library
Shrink Ray
Sweet Dreams Candy Shop
Mystery Train
Reverie Lounge
Game Show
Robo-Bling Boutique
Ghost Story
Visitor Center
S.O.S
Daggoo's Fish Market
Vampire's Curse
A Farm
Twisted Thicket
Bjorn's Smörgåsbord
Poptropolis Games 2013
Poptropolis Training Hall and Gym
Wimpy Boardwalk

Laser Tag

Lunar Colony
Final Frontier Gift Shop
Super Villain
You Know The Drill Eatery
Charlie and the Chocolate Factory
The Post Office
Zomberry
Cinema B
Night Watch
Bananabees
Back Lot
Celebrity Wax Museum
Virus Hunter
Town Hall
Mocktropica
The Blue Locust Restaurant
Monster Carnival
Ice-Cream Shop
PoptropiCon
The Facili-tee, Atrium
Arabian Nights
Rumi's Rugs
Galactic Hot Dogs
Intergalactic Arcade
Mystery of the Map
Viking Grotto
Timmy Failure
Maury's Museum of World Records
Escape From Pelican Rock
Bert's Basement Gym
Mini-Islands
Main article: Mini-Islands
Also called Miniquests, Mini-Islands are quest that looks like the island quests, but shorter and usually easier. The Mini-Islands can be bought on Poptropica Store with various prices. However, since late 2011, the Mini-Islands would not cost any credits. Below is a list of Mini-Islands released on Poptropica:
There's also a Mini-Island play called Blimp Adventure. You must buy the Poptropica Blimp first on Toys R Us to get the redeem code.
Bonus Quests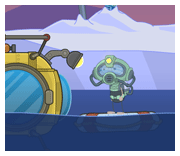 In December 2011, Poptropica started releasing bonus quests for members. The bonus quest can be unlocked when you finish selected islands. The islands that have Bonus Quests are:
The Poptropica creators have stopped making Bonus Quests since Survival Island came out.
Island Restart
On July 6, 2011, Poptropica started allowing players to replay islands, while keeping all the Island Medallions they had already earned. After you finished the island numerous times, you'll get to see how many times you've completed it.[1] An island can be restarted from the map screen.
Trivia
External links
References
Community content is available under
CC-BY-SA
unless otherwise noted.