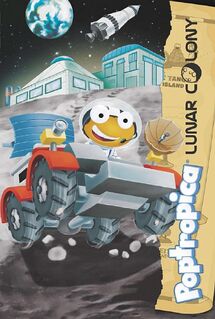 Lunar Colony Island is a book based on the island with the same name. It was released on August 1, 2013 along with 3 other Poptropica books based on islands.
Description
"
What starts as a boring family vacation becomes an out-of-this-world adventure when 13-year-old Glen Johns is accidentally blasted to the moon. On the lunar surface, he'll search for a missing astronaut, find the source of a mysterious transmission, and uncover a secret as old as the stars.
"
—Poptropica Creator's Blog
"
An astronaut has gone missing after sending a cryptic message about the discovery of an alien transmission. Back on Earth, an unsuspecting boy named Glen Johns finds himself trapped on a rocket that's about to blast off toward a remote moon base. Trapped on the moon, Glen must find the secret of the missing astronaut and the truth behind the alien transmission.
"
—Synopsis on back of book
External Links
Community content is available under
CC-BY-SA
unless otherwise noted.