The Hostess is a woman who serves at the D.C. Diner and lives on Mystery Train Island.
Characteristics
The Hostess is seem in the D.C. Diner game and also is present when you first land at Mystery Train Island.
Appearance
She has white skin with blonde hair and a small mahogany comb in her hair. Her outfit is brown with a small orange hanker shift around her neck.
Storyline
At the end of a shift, the player can choose an upgrade for the D.C. Diner. One of those upgrades is the Hostess. Once acquired, the Hostess will instantly welcome any guests to the diner and show them their seats. Once the tables are full, though, she will stop letting guests in until seats are then available.
On the Island, the Hostess only appears walking around on Main Street, in front of the Reverie Lounge. Before you climb on the train, she'll tell you that they only allow very important people on the train. After the island is over, she'll tell you she never would have suspected Mlle. Moreau as the thief.
Gallery
Trivia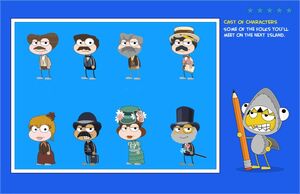 The Hostess also appeared in a Daily Pop Sneak Peek called "Cast of Characters."
On D.C. Diner, the Hostess has a mole and wears a black dress. On Mystery Train Island, her mole is gone and she wears a puffy maroon dress.
Community content is available under
CC-BY-SA
unless otherwise noted.