The giant caterpillar is a monstrous caterpillar that is found in the ruins of Shark Tooth Island. It crawls on the statue of the Great Booga Shark.
Characteristics
The giant caterpillar has a segmented body, and each segment is a bulging green-and-brown ball. It has large, bulging eyes and a green beak. The caterpillar only has two legs in the front.
Storyline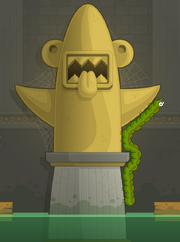 The giant caterpillar scuttles around on a golden shark statue in the ruined temple. It will knock you back if you touch it. The giant caterpillar is one of the obstacles that you must face on your way to collect the Key Ingredient and the Old Bone.
Trivia
If you click the pause button and then unpause, the caterpillar will appear to be disjointed.
Community content is available under
CC-BY-SA
unless otherwise noted.