Garth is a boy inside the Ye Olde Rumour Mille on Astro-Knights Island. His name is revealed in the Astro-Knights Island book.
Characteristics
While hanging around a rumor mill tells a lot about a character, his personality changes from island to book. On the island, he tells you a good guess at the attack, while in the book, he tells you something completely useless. In both, however, his physical appearance is described and shown the same way.
Appearance
He wears all faded asparagus green, with a green head band and suit. He has dark hair and freckles, along with bucked teeth that show out.
Storyline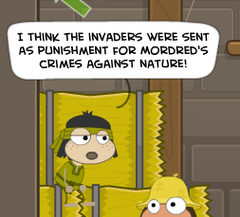 You'll find Garth inside the Ye Olde Rumour Mille, sitting on a haystack in the ground floor. He tells you that the reason why the aliens come to earth is to punish Mordred for his crimes against humanity - however, you find out that this theory is false later on.
In the book, Alice and Simon walk into the mill, and Garth immediately recognizes Alice, calling her Allie. He tells them that apparently Sir Gawain wears green underwear.
Community content is available under
CC-BY-SA
unless otherwise noted.